Even if you live in the safest of neighborhoods, you will never know whether there's an unsavoury character lurking in the background. These individuals can invade your home and force entry to it any time, so you have to do your part in ensuring the physical safety of your house.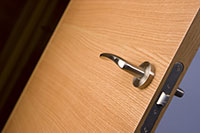 Parts of the Home that You Need to Secure
The good news is that these days, there are plenty of high-tech home alarm security systems that you can install. You can also rely on good old deadbolts and high-security locks for extra protection, which can be installed by an expert from locksmith Spanaway.
If you are in the process of beefing up the security of your home, make sure to focus on these parts:
Doors
Naturally, the main entry to your home which is the door becomes an easy target for possible break-ins. The minimum security feature that you can have on your door is a high-security lock and a deadbolt. No matter how pretty those French doors are which have a piece of glass as design, don't install them in front doors. Robbers can easily break the glass and use it to open your door locks from the outside. It's also more secure to have heavy doors than one of those flimsy ones – the minimum thickness should be 44 millimetres, which should be combined with solid locks.
Windows
Did you know that burglars find ways to get into homes even through windows that have openings which can only fit the size of a human head? When you have glass windows, make sure that they are also equipped with a suitable alarm system. At the same time, all of your valuables should be kept inside a vault or a treasure chest just to make sure that in case thieves do manage to break in, they still cannot gain access to your most important possessions.
The perimeter of your house
Finally, secure the perimeter of your house. Invest in a suitable electronic alarm system. Make sure that your house is surrounded by bright light at night to discourage thieves from breaking in. Securing your home as well as you can is the number one deterrent against possible break-ins.